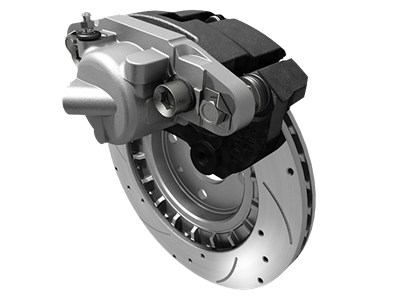 Brake Pad and Rotor Service

At our Muller Honda, we strive to help you maximize the life of your brake pads and rotors through maintenance services.
Benefits of Brake Pads and Rotor Service

There are numerous benefits associated with the routine maintenance and replacement of your vehicle's brake pads and rotors, the most vital being:
Decreased long-term expenditures: Replacing your brake pads and rotors in a timely manner will save some of the mechanical components of your vehicle from working harder than they should. For example, failure to replace brake pads and rotors over time will eventually corrupt your vehicle's calipers. Oftentimes replacing calipers on a vehicle is a fairly expensive endeavor.
Increased safety: Faulty brake pads and rotors can not only lead to further mechanical complications but can also render you unsafe in your own vehicle. The ability to make a quick and sudden stop without forewarning is an essential element of vehicle safety, and with faulty brake pads and rotors, this ability is severely compromised.
A more comfortable riding experience: Corrupted brake pads and rotors are fairly easy to diagnose. When braking, your vehicle will often shudder, or vibrate uncontrollably. Fully functioning brake pads and rotors should decelerate your vehicle smoothly and quietly.
Muller Honda | Highland Park
550 Skokie Valley Rd, Highland Park, IL 60035
Serving
Highland Park

,

Chicago

&

Evanston

The best time to replace brake pads and rotors is when wear is significant and before you notice tell-tale signs that a replacement is critical. Once you notice screeching, squealing, grinding, vibrating or other obvious issues when you apply pressure to the brake pedal, your equipment is typically very worn and requires immediate replacement. If you make a replacement before the wear level reaches this point, you have more flexibility to schedule the brake pad and rotor replacement service around your schedule conveniently. You also minimize additional related wear on the vehicle and possible safety concerns.
Muller Honda Service

If you have not had your brakes and rotors inspected recently, now is a great time to reach out to our Honda service center for an appointment. This inspection can typically be completed quickly, but an advance appointment is recommended for speedier results. In the event that your car's brake pads and rotors require service, we can typically address all of the vehicle's concerns during that same visit as a convenience to you. You can always expect our service center's staff to provide high-quality auto service and friendly customer service.
Each time you get behind the wheel of your Honda, you rely on your vehicle's braking system across every mile. This is a system that you may not think much about until you begin to notice signs of brake wear or failure. When the time comes for a replacement, you can feel confident that we will work efficiently while focusing on quality.