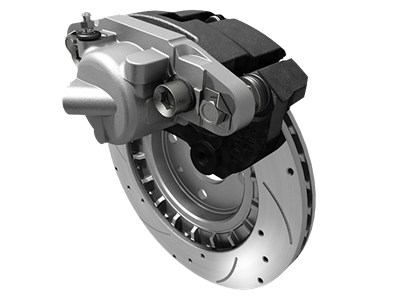 Brake Pad and Rotor Service

Here at our Honda dealership, we are proud to offer our clients a wide and constantly rotating selection of automotive service specials on vehicles of all years, makes, and models.
Benefits of Brake Pads and Rotor Service

There are numerous benefits associated with the routine maintenance and replacement of your vehicle's brake pads and rotors, the most vital being:
– Decreased Long-Term Expenditures: Replacing your brake pads and rotors in a timely manner will save some of the mechanical components of your vehicle from working harder than they should. For example, failure to replace brake pads and rotors over time will eventually corrupt your vehicle's calipers. Oftentimes replacing calipers on a vehicle is a fairly expensive endeavor.
– Increased Safety: Faulty brake pads and rotors can not only lead to further mechanical complications, but can also render you unsafe in your own vehicle. The ability to make a quick and sudden stop without forewarning is an essential element of vehicle safety, and with faulty brake pads and rotors this ability is severely compromised.
– A More Comfortable Riding Experience: Corrupted brake pads and rotors are fairly easy to diagnose. When braking, your vehicle will often shudder, or vibrate uncontrollably. Fully functioning brake pads and rotors should decelerate your vehicle smoothly and quietly.
Muller Honda | Highland Park
550 Skokie Valley Rd, Highland Park, IL 60035
Serving
Highland Park

,

Chicago

&

Evanston

At Muller Honda, it is our guarantee that you will be satisfied with the quality of work performed on your motor vehicle. Muller Honda makes this guarantee because all of our automotive technicians are certified experts in their fields. Also, our automotive technicians possess vast amounts of experience in the regular performance of our selected automotive services. It is worth mentioning as well that each of our certified automotive technicians have undergone rigorous amounts of training in order to receive their certifications, and although they are experts in their specific brands they are also experts in performing automotive services on vehicle's of all makes and models. We do not discriminate or turn down any client or service due to the year, make, model, or automotive service requested.
Muller Honda Service

Muller Honda can also guarantee your satisfaction not only through the quality work of our certified automotive technicians, but through the usage of OEM (Original Equipment Manufacturer) parts applied to your motor vehicle. Unlike many dealerships, Muller Honda uses OEM parts rather than aftermarket or stock parts. OEM parts are preferred over stock or aftermarket Honda parts because:
– OEM parts come directly from the automotive manufacturer or brand. For example, if your vehicle is a Honda, the only parts applied to your vehicle will come directly from the Honda manufacturer.
– OEM parts offer premium aesthetics and functionality. Because OEM parts are designed specifically for your brand of vehicle, you will notice a distinct difference in quality and aesthetics compared to stock or aftermarket parts.
– OEM parts are typically bundled with excellent warranty packages and terms that are simply unavailable with stock or aftermarket parts. Although OEM parts can be slightly pricier than stock or aftermarket parts, the enhanced features and warranties that come with them are almost always worth the price.